Tiempo de lectura:
3
minutos
Last Sunday, 11th of November, Econòmic's journalist, Marta Sardà, wrote an article about Voxel's present, past and future. The beginning of the company as an e-Commerce cellar and the future towards electronic payments:
(Click on the image to have a better resolution)
Voxel Group adds electronic payments to its services
The company is looking to establish in Europe and get into the US market.
Voxel Group offers technological solutions to the travel industry and HORECA channel, a business line that has nothing to do with the first spin-off created in La Salle's engineering campus. "After taking my PhD in the US and living in NY for 5 years, I decided to come back and apply what I have learnt there. It was the beginning of the Internet era and nobody was talking about entrepreneurship at universities. In that context, Voxel Media was born, a project to create services online. We created a virtual cellar, but it didn't work out because we launched it too soon", explains the Founder and President of Voxel Group, Xavier Ginesta.
However, the network made during that time made possible what Voxel Group is today. "We created an electronic delivery platform for cellar producers, their clients, hotels and restaurants. It went well and the electronic order followed the electronic invoice", says Ginesta. They started working with hotel chains and in 2006 Husa Group requested a system to issue electronic invoices to their travel agencies. "This opened up the doors to new opportunities, as at that time, Spain was the third world's travel destination". Soon, the company incorporated two important international travel wholesalers as clients, TUI Group and Thomas Cook. From there, Voxel Group started its international expansion.
Voxel Group is also known for baVel, a platform to manage orders and issue electronic invoices developed in 2002. "We use baVel to connect to over a 1000 suppliers across Spain. We have become a leading solution for the HORECA channel where we have 90% of the market share", points Voxel's CEO, Àngel Garrido. This line of business has entered the Procurement environment, the supply chain between international companies. "Through baVel, we can digitalise the whole supply chain of a company", states Garrido.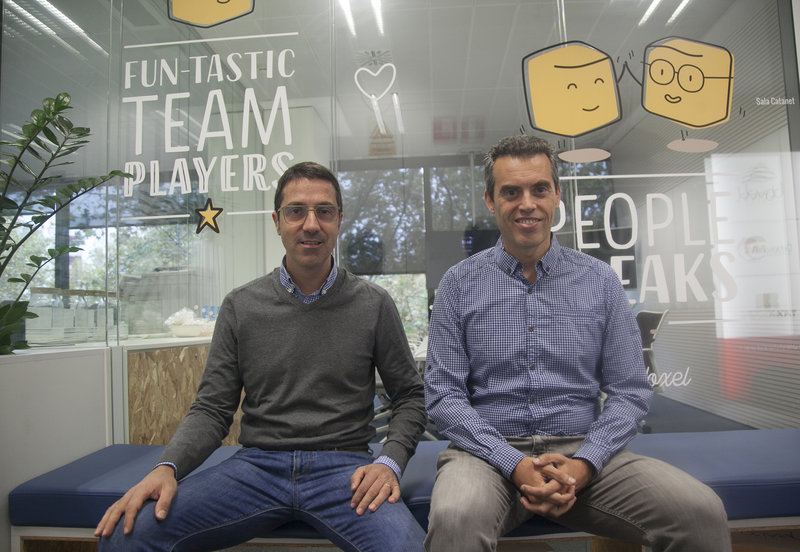 DevoluIVA and Taxecure
The group, who won the prize to 'The most competitive SME' at the PIMEC 2018 awards, has created two more brands to complement baVel's offer: DevoluIVA and Taxecure. The first one, created in 2014, allows automated VAT reconciliation for self-employed and companies. "Through an app, they can digitalise their receipt and it is automatically converted to an electronic invoice accepted by the country's Revenue", explains Ginesta, who assures that a self-employed could save up to €3,000 to €6,000 in VAT fees and for a large company it could scale up to €60,000.
The app counts with two strategic alliances: one with Mastercard, which directly generates a digital receipt; and one with La Caixa, which is the first banking entity to include DevoluIVA in its corporate cards. Currently, DevoluIVA has 32,000 users, including self-employed and companies, who are taking advantage of a network that contains more than 42,000 businesses – mainly taxi drivers, petrol stations, parking lots and restaurants – placed in the major capitals of Spain. But, "if a client is used to go to a business that doesn't have DevoluIVA, they can tell us, and we will add it to the network", points Garrido. The app shows the affiliate businesses via geolocation.
Taxecure, the second group's brand, is "a progression of the electronic invoice and DevoluIVA for the travel industry", adds Ginesta. Launched in 2015, its aim is to reconcile VAT between countries within the EU. "We have baVel, a network that counts with more than 50,000 hotels and the capacity to connect to all European travel agencies. We process the VAT fee and pay the money to our clients in advanced within days", explains Garrido.
At the moment, the company is exploring the next great evolution of baVel: electronic payments. "So far, things are quite good. Since the beginning of the year, the group has made a profit of over a 1M turnover". The company assures that this change will increase their revenue by two or three times. "Electronic payments will allow us to get into the North American market and get established in Europe", assures Ginesta.