Tiempo de lectura:
3
minutos
More than 130 professionals from the Greek Travel sector met in Athens at an event organized by Voxel, a leading company in electronic invoicing and B2B payments in the travel sector, and Mitsis Hotels, the largest hotel chain in Greece, to analyze the present and future of B2B payments and the digitalization of processes. The event included the participation of Mr. Kyriakos Pierrakakis, Secretary of State and digital governance of the Greek government, and the collaboration of SETE, the Greek travel confederation.
Case studies in hotels
Lefteris Tsoukalas, Director of Mitsis Alila Resort & Spa, shared with the audience at the event the benefits obtained by the hotel chain after implementing electronic invoicing at all their hotels 11 years ago together with Voxel. "Before implementing electronic invoicing at our hotels, we had 64 employees dedicating a half hour each day to managing invoices. Now we only have one person dedicating 2 minutes each day to this task. Electronic invoicing has allowed us to save more than 6,400 hours of work each year, which the workers at Mitsis can now dedicate to tasks that provide greater added value. We have also reduced the use of paper to zero, which equates to more than 325,000 sheets per year; that is, 3.2 tons of paper". And he continues by saying "Another noteworthy benefit is that we now have timely payment collections".
Case studies in travel companies
"10 years ago, delays in payments were affecting our relationships with suppliers. The implementation of Bavel's electronic invoicing platform considerably reduced the management time and improved the adaptation to the local regulation", said Eva Benesova, Back Office Operations Manager at MTS Globe, one of the most important receptive operators in the travel sector. "Currently, 100% of invoices in Spain are electronic. The main destinations of MTS Globe have 50% coverage and, in total, 40% of all our invoicing is done electronically. Thanks to electronic invoicing technology we are able to process invoices faster as well as reduce errors, lower costs and save time. Also, we improve the overall experience and are able to make timely payments".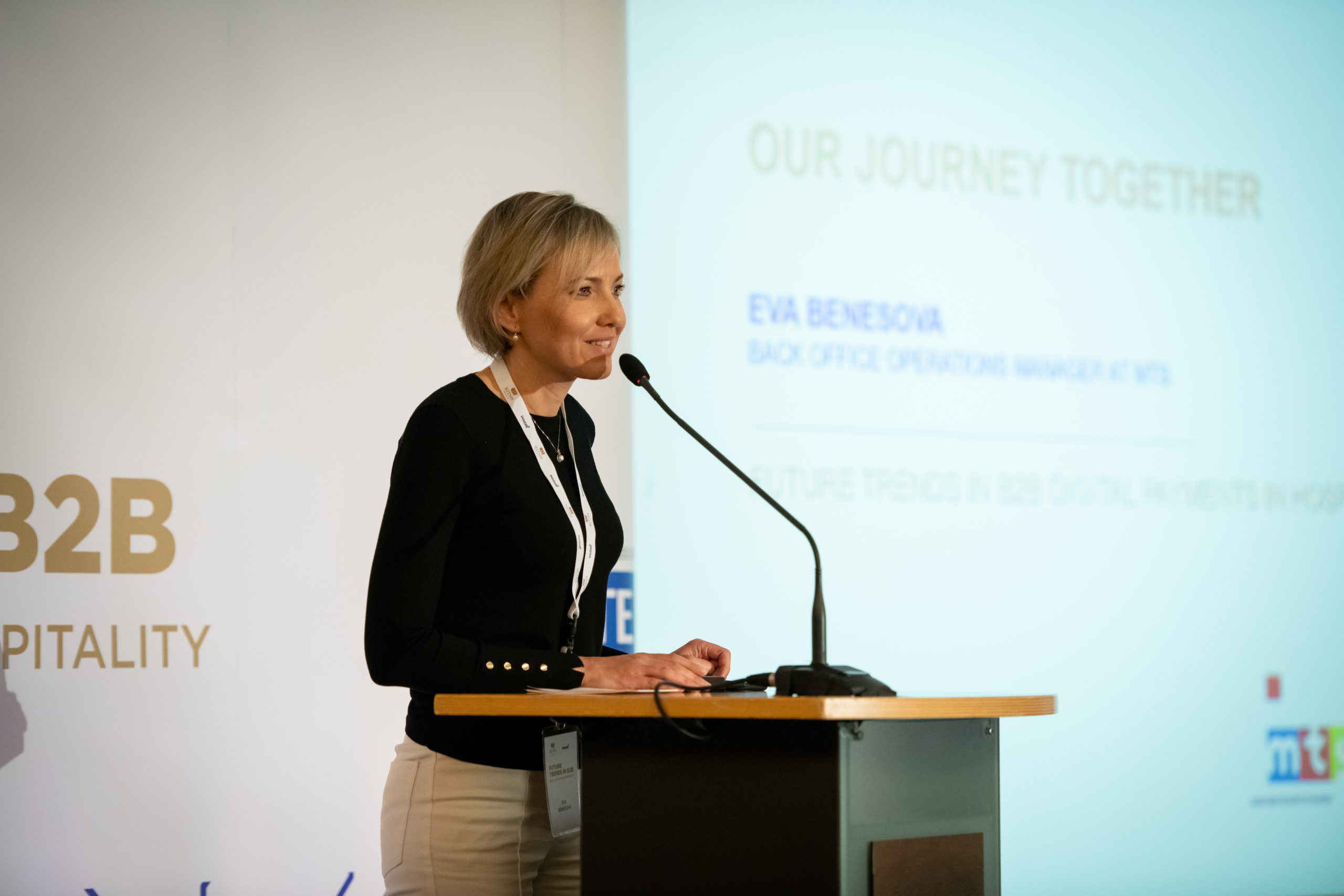 Along these same lines, Katrin Jakobus, Financial Controller of Accounts Payable at the travel group TUI, said "Each year we receive 5.1 million invoices from more than 16,000 different suppliers. 45% of these invoices are managed through Bavel and the benefits we have identified are many: delivery of clear data, absence of errors in interpretation, automated feedback, secure delivery of invoices and a reduction in the number of questions. And the most important thing for the hotels we work with is that the quick processing of invoices guarantees timely payments".
The importance of B2B payments
On the other hand, Sofoklis Limniotis, Head of Digital Payments at Hotelbeds, one of the most important bed banks in the world, wanted to emphasize the importance of electronic invoicing as well as B2B (business to business) payments. "15 years ago, we began working with Voxel on automating the issuance and reception of invoices. Today we have the opportunity to finish digitalizing our entire invoicing process with B2B payments". Mr. Limniotis continues on to say that nowadays, "Voxel is a key player in the electronic invoicing market and is now working on digitalizing payments. At Hotelbeds we are strong advocates for automating B2B payments and we believe that 2023 will be a key year".
Ana Arjones, Director – Market Development Travel, Enterprise Partnership at Mastercard, assured the audience of a full recovery of the travel sector this year: "Hotels will return to pre-pandemic (2019) levels by the end of 2023". In the payments area, the speaker explained that continuing to invest in different modes of payment will be a priority; "the ability to offer different payment options is key to promoting fidelity".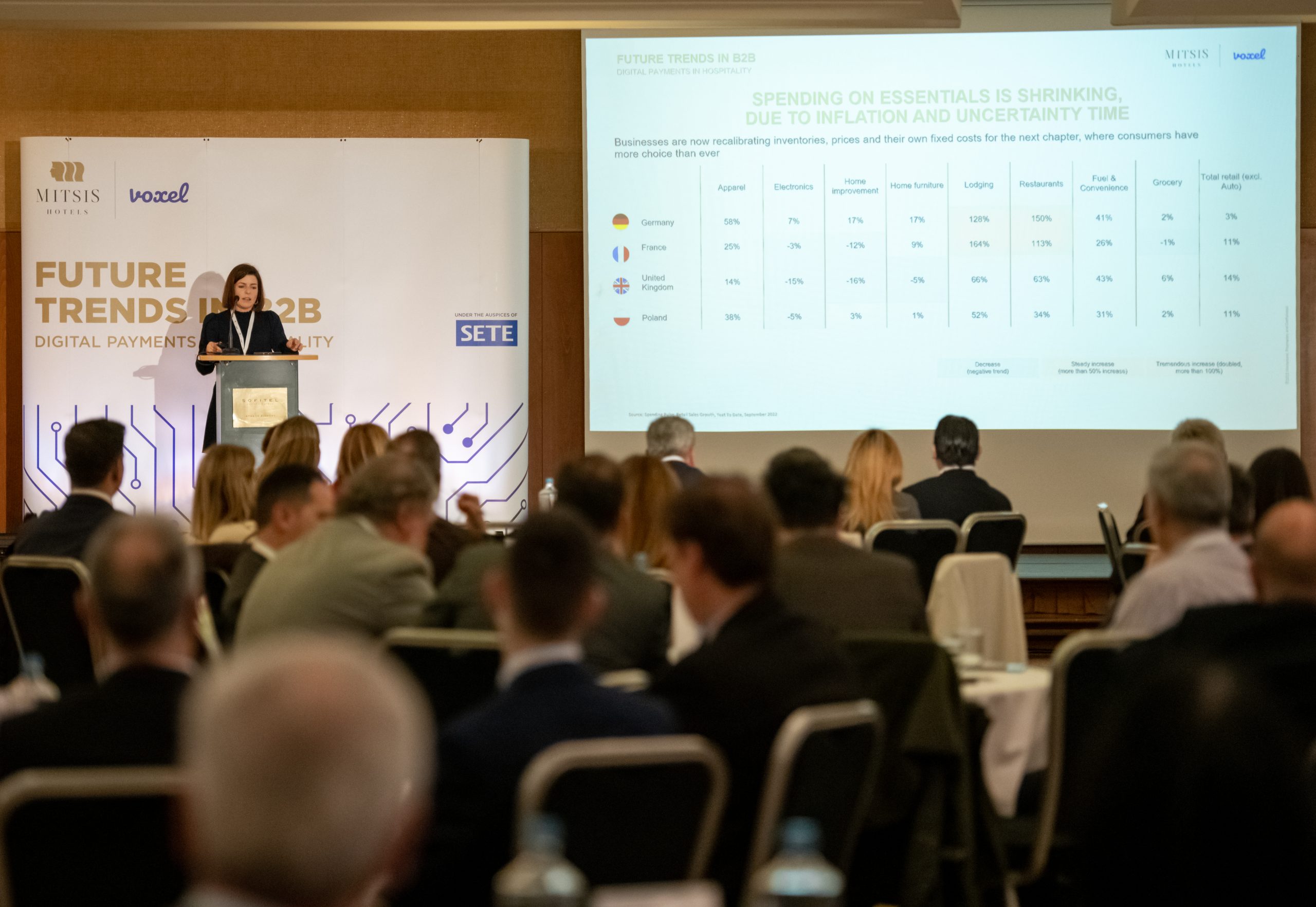 Arjones also shared with the audience the trends that are expected in the financial area. "Currently, unemployment in the European Union is at 6%. A strong job market helps consumers face inflation and a slowdown in economic growth". She continues on to say "the post pandemic effect is promoting and accelerating spending on experiences. Spending at restaurants has increased by 25% worldwide".
The power of collaboration
Xavi Ginesta, chairman at Voxel, introduced Bavel Billing and Bavel Pay, the company's solutions for automating and digitalizing the invoicing and payment processes between companies. Currently, the Bavel platform is the most widely used platform in the travel industry and more than 50,000 hotels and 1,000 travel agents are using it.
Also, Ginesta wanted to send a message in support of collaboration throughout the industry: "An event as the one we are attending today, where competing companies share their strategies, would not have been possible 20 years ago. Now is the time for collaboration, as competition should not be driving the economy". Mr. Ginesta concluded by linking this collaboration to the future of the industry: "Frictionless B2B payments will be the new norm soon. And this will only be possible if the stakeholders that are operating today collaborate with each other. At Voxel be have already begun to do so".