Tiempo de lectura:
< 1
minuto
Once more, in Voxel, we celebrate the World's Tourism Day and this year, we want to provide a 360 inside look to the sector and to our electronic transactions platform baVel: 24 hours in the travel sector and baVel.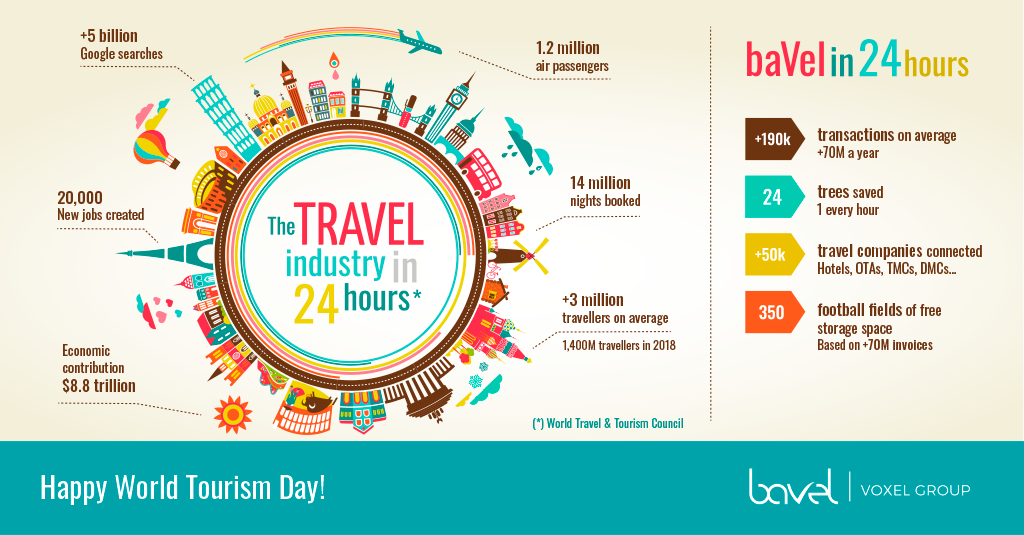 This year, the UNWTO (United Nationals World Tourism Organisation) commemorates this day focusing on Employment: 'Tourism and Jobs: a better future for all". Its purpose is to foster awareness among the fundamental role that tourism plays in creating new jobs. In 2018, 319 million jobs were created in the travel sector alone. 
Furthermore, as today is also the Global Climate Strike, the UNWTO also wants to emphasize the importance of the travel sector to contribute to the Sustainable Development Goals (SDG). In particular, the travel sector contributes to the 8th Goal, with the final purpose of: "By 2030, devise and implement policies to promote sustainable tourism that creates jobs and promotes local culture and products". 
One of the main objectives of baVel is to dematerialise the administrative department of travel companies and the supply chain. Also, we help companies making more efficient their administrative departments and we contribute to the digital transformation of our clients. And our purpose as a company is to create happy business network. 
This is why we believe that sustainable tourism must be one of the sector's priority.  
Happy World's Tourism Day!