Tiempo de lectura:
2
minutos
Voxel Caribe, the company specialized in electronic invoicing and B2B payments, has become the first provider certified by the DGII to issue electronic tax receipts (e-CF) in the Dominican Republic
Voxel Caribe, which has been advancing this technology in the Dominican Republic for over 8 years, is the first company to meet all the requirements for certification as a Dominican e-CF e-invoice provider:
A portfolio of at least 5 clients with electronic tax settlement systems in production, namely Nestlé Dominicana, Distribuidora Corripio, Grupo CCN, Dominican Watchman National and "Administración y Atesoramiento".
Settling its own tax payments electronically.
In addition, Voxel Caribe is the tech partner that has accompanied most companies in the official certification in the Dominican Republic.
From now on, any business that wishes to settle tax electronically will be able to do so with the help of Voxel Caribe. The benefits of issuing e-CF e-invoices assisted by a technology partner are legion:
Benefits from a robust technology and certified by the Dominican DGII Internal Revenue Service.
A secure, functional and robust connection process.
Quicker deployment processes.
Voxel thus takes one step further in its commitment to digital development and the implementation of electronic invoicing in the Dominican Republic. The firm already has over 300 businesses in its portfolio, and they all now use Voxel's electronic invoicing and B2B payment solutions.
Solutions for your company's digital transformation
The Voxel Caribe solutions—baVel and baVelPay by VISA—digitize and automate the entire supply chain of a company. This includes the catalogue, orders, receipt of goods, invoices, credit notes, payments, etc.
baVel is an electronic invoicing platform that optimizes all back-office processes. The technology reduces errors and incidents, improves traceability and document control, and favours dematerialization.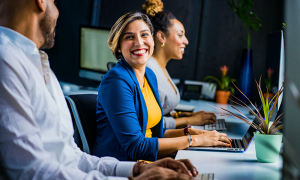 Meanwhile, baVelPay by Visa facilitates electronic payments between companies. There are many benefits for both buyer and seller. First, they enjoy the security and reliability of payment settlement through the Visa network. It also reduces the unit cost of invoice processing. And finally, it reduces collection times, helping enhance a company's efficiency and improve cash flow.
In the words of Voxel Caribe Vice President Gina Lovatón, "the digitization and automation of back-office processes are especially important in the context of the pandemic we are experiencing. Digitizing these processes contributes to social distancing, helps improve the efficiency of companies and boosts their competitiveness."
The electronic invoice in the Dominican Republic
The implementation of electronic invoicing is progressing in the Dominican Republic. In 2019, DGII launched an electronic invoicing pilot with the participation of over 10 companies. Following the successful completion of the pilot, the DGII published standard 01-2020 regulating the use of electronic invoicing in the country. Since then, businesses can choose to settle taxes through a certified provider such as Voxel Caribe, or transmit electronic invoices directly to the DGII using their digital signature to send and validate the documents.