Tiempo de lectura:
2
minutos
Voxel attends Fitur with the clear objective of encouraging innovation in the area of B2B payments in the travel sector using Payment Manager.
Voxel, the leading electronic payments and ebilling company in the travel sector, will present the latest news related with Payment Manager at Fitur. Payment Manager is the cornerstone of the Open Payment Alliance, which is the new B2B payments standard that has been specifically designed for the travel industry.
The introduction of Payment Manager in the sector and consequently, the adoption of the standards set by the Open Payment Alliance, will entail a paradigm shift in terms of innovation, digitization and automation of B2B payment processes in the industry. This is how it has been described by important associations in the sector such as HEDNA and HTNG, who have been the promoters of OPA.
Technology in the distribution channel and in the payments channel
Over the past decades, distribution in the travel sector has grown exponentially, which has resulted in the appearance of new actors and intermediaries. This growth has been possible thanks primarily to three key technologies: the Internet, VCCs and Channel Managers.
However, the managing and distribution of B2B payments has not evolved at the same pace and the process to manage these is currently highly manual, complex, inefficient and a source of errors and losses for companies in the sector. In fact, in the current scenario, payment processing costs can have an impact of up to 5% of a hotel's revenue, according to data provided by Voxel.
Open Payment Alliance proposes a new channel that is different from the reservations channel and which allows channeling a flow of payments from start to finish in a manner that is optimized, without frictions and adapted to the specific needs of companies in the travel sector.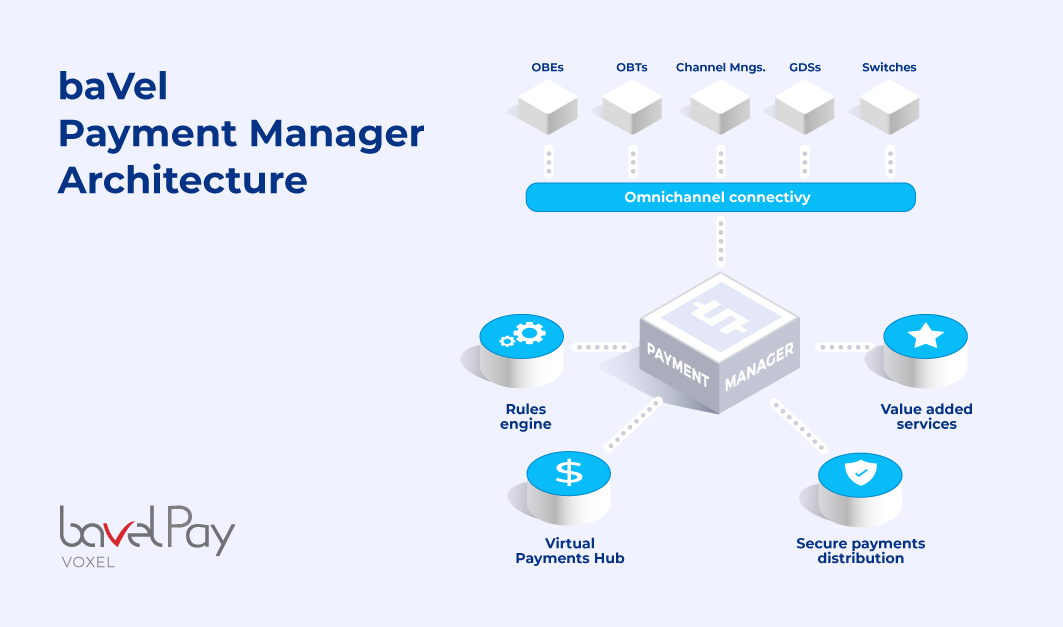 In this sense, Voxel has developed baVel Payment Manager, the first Payment Manager on the market, which, in addition to implementing the standards set by the Open Payment Alliance, adds new modules that can be used by travel companies to automatically process payments while also benefiting from other innovations. These modules are: omni-channel connectivity with GDSs, Channel Managers, etc.; a rules engine for automatically selecting the best payments supplier and automatically executing the payment process; a virtual payments hub with more than a dozen payment suppliers; the safe distribution of payments and value added services such as invoice recovery, FX, automatic reconciliation, etc. baVel's Payment Manager has passed the first concept tests and is currently being used by a dozen companies such as Palladium, Hotusa, MTS Globe, TUI Iberia…
Voxel at Fitur
For the second year now, Voxel will participate in Fitur with a clear objective: promoting the adoption of Payment Manager by the travel sector. In addition to presenting the latest innovations in Payment Manager, the company will also showcase its solutions for digitizing all the back-office processes of hospitality and travel companies at stand 8A14.