Tiempo de lectura:
4
minutos
In these pandemic times, some of the sectors that are suffering most from the consequences of social distancing measures and restrictions are the hospitality and restaurants industry, along with the distribution of food and beverages. In this situation, some companies have decided to hibernate, while others have decided to overhaul their internal processes from top to bottom in order to emerge stronger from this crisis. 
Efficiency and optimisation are now priorities for many businesses. In this scenario, we have talked to 5 experts in these fields to get their views on what to expect over the coming months in relation to digitisation in the HORECA channel. 
Accelerating the digitalisation of business
Renew or die. In March 2020, many businesses had to pull down the shutters and took advantage of the moment to do a long-overdue task: digitise their businesses. "The crises resulting from the pandemic have boosted business creativity to look for new ways of doing business, and in many sectors one of the keys has been the promotion of digitalisation in their businesses", explains Agustín Bosch, Purchasing Director at Satocan, a business group that manages the most sought-after complexes in the Canary Islands.
In the same vein, Héctor Martín, VP Global Sales at Voxel, says "most companies, especially large ones, have long been aware of the importance of digitalisation and the pandemic has only accelerated these processes. On the other hand, those companies that had not yet drawn up a digitalisation plan have been forced to do so in fits and starts. We note that the pandemic has helped to raise awareness of the importance of digitisation and has accelerated the adoption of technological tools." 
In the same direction, Andreu Martínez, Director of Procurement at the Viena chain of restaurants, says: "The pandemic has pushed us towards digitalisation; it has accelerated the pace in terms of project implementation". 
Alberto Ferreira, Hospitality Director at Campofrío Spain, adds "technology has gone from being considered an accessory to one more element of the 'new normal' in all hospitality businesses, large and small".
More categorical is Enric Almiñana, Corporate Procurement Director at ABBA Hotels. "Digitalisation has advanced more in a few months than in recent years. So much so that those who have not kept up to date in this area have lost money or have had to close their business". 
Automation of all kinds of processes
The direct consequence of the acceleration of digitalisation is the automation of all kinds of processes. 
In this sense, Enric Almiñana of ABBA Hotels highlights the impulse of takeaway and delivery and the new ways of contracting hotel services in the direction of co-working. Also the advance towards big data, artificial intelligence and RPA policies. 
Something similar is predicted by Alberto Ferreira of Campofrío Spain: "The development of take-away services is important, as they have become the main alternative to in-store consumption".
For his part, Héctor Martín emphasises business models: "those companies that based their business model on the physical point of sale have had to open or promote new sales channels and digital interaction with the customer". And he reflects on the business culture of companies: "Organisations will accelerate their change management processes to become more agile, connected, collaborative, flexible, innovative and open to be able to digitise all links in the value chain".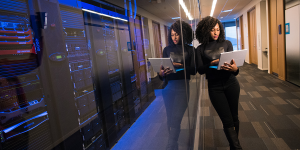 At this point, it is important to note that many new technological tools are currently emerging in the market to cover all business needs. Now, large, medium and small companies have a wide range of possibilities to digitise and automate their processes. It is therefore important that they choose tools that are modular, flexible and easy to integrate with other systems. The aim should be to be able to "implement tools that cover specific needs but that are scalable, i.e. that allow for increased functionality and that are easily integrated with other solutions, adapting to the life cycle of each company," explains Héctor Martín. 
The importance of the back office in the post-Covid-19 era
The five experts agree that the digitisation and automation of back office processes will be key to the sector's recovery. 
Voxel's VP of Global Sales explains it very clearly: "Traditionally, companies have favoured the digitisation of all those tools that will help improve customer relations or increase sales, to the detriment of the back office, where administrative tasks continue to have a high percentage of manual work. Companies are now starting to focus on the digitisation of these administrative processes, as maximising the efficiency of back office processes has become a key element for the sustainability and scalability of the business". Furthermore, he adds that "process automation must be transversal: the digitisation of the front must go hand in hand with the digitisation of the back".
Something similar is explained by the Corporate Purchasing Director of ABBA Hotels: "the application of technology to the outside is proportional to the need for internal electronic management, they go hand in hand, it is inconsistent to work with external electronic processes and continue with less advanced internal processes.  The digital organisation always goes in-out". 
"The digitalisation of back office processes will evolve exponentially, we are already working on it in many areas of our company and different sectors, automating processes such as purchasing management, pricing, supplier catalogues, marketplace…", explains Bosch, from Satocan. 
In a more practical sense, speals Ferreira of Campofrío Spain, the digitisation of back office processes "not only allows resources and efforts to be redirected towards employees or other activities that generate value, but also helps to reduce the costs derived from this management, and contributes to improving the sustainability of the business".
In this sense, the Viena Procurement Director is clear, we are heading towards the "automation of processes that do not add value to companies". 
The digitisation of administrative processes will undoubtedly mark a turning point in the competitiveness of companies. Those who have understood the importance of digitalisation and automation have taken advantage of these months to renew all their processes. Those who, on the other hand, continue to rely on continuing to operate as before, are losing speed in a world that will either be digital or it will not be.
We wish to thank all the experts consulted for their contribution to this article: